General Description:
SG8RF02P is designed for low power wireless applications and SOC chip, integrated 8-bit RISC MCU, 2.4 G RF transceiver and SPI, TIMER, USB peripherals, offers a variety of power consumption control mode to make the system power consumption to achieve the optimal. The chip can be used in the wireless mouse, wireless keyboard, remote control, USB dongle and other applications.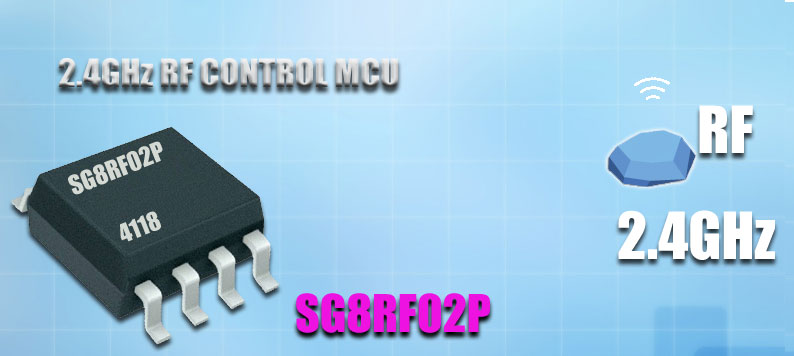 Features:
4Kx16 OTP ROM.
192x8 SRAM.
Multistage power consumption control mode (idle mode and sleep mode).
Support the interrupt wake up wake up/port status changes.
12 GPIO, built-in pull up resistors, the drive ability programmable(2 mA and 4 mA).
4 timer/counter.
With SPI interface, support the host/from machine model, reusable configuration to internal RC transceiver.
Compatible with USB2.0 at full speed, supporting the human interface device (HID), support a device address and 3 endpoints.
The RF transceiver: 2.4 ~ 2.5 G ISM frequency, 125 wireless channel, wireless rate 1 MBPS or 2 MBPS.
Applications:
Wireless mouse.
Wireless keyboard.
Remote control.
USB dongle.