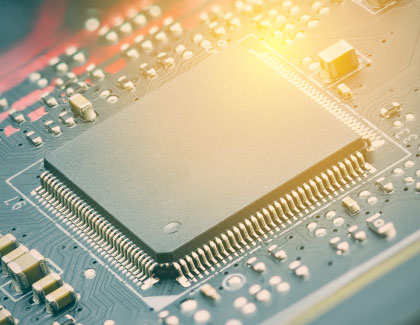 Company Profile

SigmaChip, also known as Sigma Micro, a fabless IC company, having been successfully tapped into various PC peripherals and consumer electronics market with high volume shipment, consecutively received the " Top 10 Chinese IC Design Companies " awards in year 2009 and 2010 from EE Times.
SigmaChip, led by a team of seasoned semiconductor veterans and entrepreneur, has attracted many top talents from various places, such as Qing Hua University, Carnegie Mellon, Cornell, Southampton, HuaWei, ST Microelectronics, etc. We are proud to have such a high density of talent in our company.
The company is headquartered in Beijing, with offices in Hong Kong and Shenzhen, the hub of the vast electronics OEMs of the world.
SigmaChip focuses on consumer electronics, PC peripherals, MCUs, SOC, touch-key and DC/DC chips.
We heavily focus on customers' satisfaction, work with them closely, and always strive to offer the exact products that not only minimize the over Bill of Material, but also offer additional features at no extra cost.
The company puts high priority on creativity at all levels, never compromise on product quality, and always work hard to challenge competitors and ourselves.
Honors And Awards

Top 10 China IC Design Companies by CSIA
2003
Top 10 China IC Design Companies by CSIA Once Again
2004
"Asia Pacific high-tech high growth 500 strong" by Deloitte
2005
Top 10 most welcomed China IC Companies by ESM / Global Sources
2007
Top 10 China IC Design Companies by EE Times
2009
To obtain the "EE" Design Achievement Award
2010
Most valuable customer of HHNEC, a Semiconductor Foundry
2011
Honors And Awards

Top 10 China IC Design Companies by CSIA
2003
Top 10 China IC Design Companies by CSIA Once Again
2004
"Asia Pacific high-tech high growth 500 strong" by Deloitte
2005
Top 10 most welcomed China IC Companies by ESM / Global Sources
2007
Top 10 China IC Design Companies by EE Times
2009
To obtain the "EE" Design Achievement Award
2010
Most valuable customer of HHNEC, a Semiconductor Foundry
2011